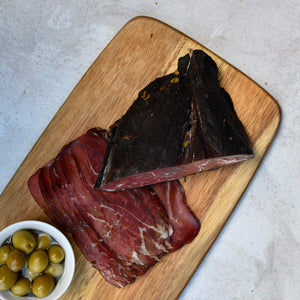 Dargle Valley's Swiss Smoked Beef is crafted from tender beef loins, dry cured and double smoked for enhanced flavour. 
This is a meat specialty from Switzerland. Produced in the two cantons of Appenzell Ausserrhoden and Appenzell Innerrhoden as well as in the parts of the canton of St. Gallen in Switzerland bordering to the north. 
Serving suggestion:
Serve cold, in a sarmie or on a cheese board. Chop up and pop onto a pizza or stir into your favourite pasta.