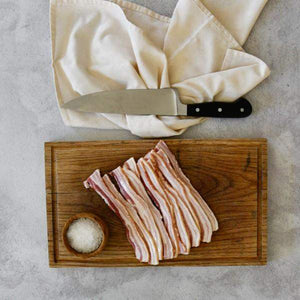 Our streaky bacon is traditionally dry-cured and lightly oak-smoked. Bands of fat run through each rasher creating a rich, salty, melt in your mouth texture. The perfect breakfast treat.
Cooking Instructions:
Pan-fry: Preheat a pan over a medium heat. Lay the bacon rashers into the pan and cook until golden and crispy.
Roast: Lay bacon rashers on a nonstick baking tray. Place in a preheated 180C oven and bake until golden and crispy.
This product:
- Hormone and antibiotic free meat
- Sustainable meat
- 100% South African