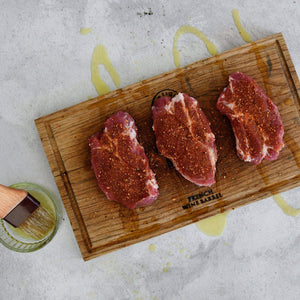 SUBJECT TO AVAILABILITY 
Marbled with rich buttery fat, our marinated rib-eye steaks are simply delicious. Packed full of flavour, perfectly tender and marinated with our special blend of herbs and spices, there is no wonder why this is the best cut of meat. 
Cooking instructions: 
Pan-fry: Heat a little olive oil in a pan, season the steaks and place in the pan, cooking for 5 minutes per side until cooked through. 
Bake: Preheat the oven to 180C, season the steaks and drizzle with olive oil and place in a roasting pan. Bake for 30 minutes until steaks are cooked, turning halfway through. 
Braai: Season steaks and drizzle with olive oil. Place the steaks directly onto the braai grill, turning frequently until golden brown and cooked through. 
This product:
- Hormone and antibiotic free meat
- No added MSG
- Sustainable meat
- 100% South African