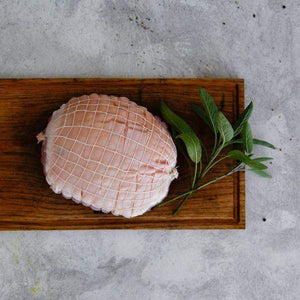 A classic roasting joint – our legs are deboned, trimmed and meticulously rolled leaving you with the perfect amount of skin to create the best crackling. Marbled with the ideal amount of fat, you are left with a tender and succulent roast. 
Cooking Instructions: 
Preheat the oven to 220C. Remove roast from packaging and place on a cooling rack in the sink. Pour a kettle of boiling water over the roast. Allow the roast to dry completely, place in a roasting pan, drizzle with olive oil and season to taste. Place in the oven and roast for 20 minutes until skin begins to crackle. Turn the oven down to 180C and roast for a further 30 minutes per kg of meat.
This product:
- Hormone and antibiotic free meat
- No added MSG
- Sustainable meat
- 100% South African