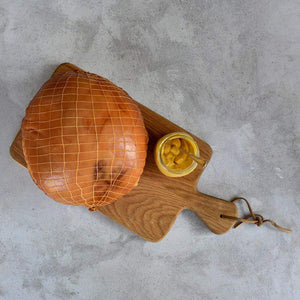 Our deboned and wood-smoked Gammon is an incredibly robust cut that is not only perfect for Christmas. Cured and irresistibly smoked – its rich, salty, smoky character makes it the perfect roast for serving as a centre piece or as part of a buffet table. Serve warm or sliced cold, the possibilities are endless.

Cooking Instructions:

Preheat oven to 180C. Place the gammon in a large piece of tinfoil. Rub the gammon with 2tsp hot English mustard powder, 100ml of honey and scatter over a few cloves and bay leaves. wrap the tinfoil loosely around the Gammon so to form a pocket. Make sure the foil is tightly sealed. Place the wrapped Gammon into a roasting pan and roast for an hour per kg.