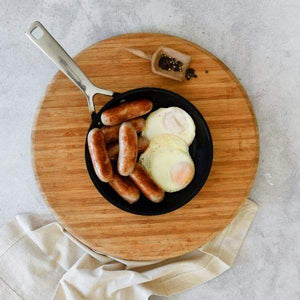 Our award-winning pork sausages are unlike anything else. We believe that sausages should be as pure and as wholesome as possible and with pork as good as ours, we don't have to add anything else. Made with our farm-raised pork with no added MSG or hormones and using a natural casing, we dare you to find a better pork sausage! 
Cooking instructions:
Pan-fry: parboil for 5 minutes, pour off the water, add a little olive oil and fry over a medium heat until brown and cooked through.
Oven: Place sausages on a roasting tray, drizzle with olive oil and bake for 30 minutes at 180C, turning halfway through.