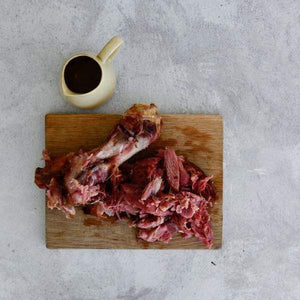 Think pure indulgence! Rich, salty and fall off the bone tender. Our Dargle Valley eisbein is brined in a secret blend of spices and cut to the perfect size. There is nothing not to fall in love with. The perfect treat for a cold winter's night. 
Pairs perfectly with a Sutherland Riesling from Meander Fine Wines!
Cooking Instructions: 
Preheat the oven to 160C. Bring a big pot of water to the boil. Place the eisbein into the boiling water and boil for 15 minutes. Remove for the pot and place in a roasting pan allowing the eisbein to dry completely. Season with salt and roast for 3 hours. Turn the oven up to 180C for another half an hour to allow the skin to crackle. 
This product:
- Hormone and antibiotic free meat
- No added MSG
- Sustainable meat
- 100% South African