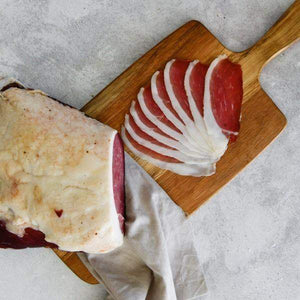 Prosciutto is the Italian word for 'ham' and  prosciutto crudo means 'raw ham.'
Dargle Valley's prosciutto crudo is made using cured pork leg, which is dry salted and air-dried for a minimum of eight months. The only difference between our prosciutto and Parma Ham is that Parma Ham is controlled by the Consorzio del Prosciutto di Parma and can only be produced in the hills surrounding the town of Parma in the Emilia Romagna region of Northern Italy.
Serving suggestion:
Serve cold on a cheese board, wrap around melon, lay it on top of pizza or fry it up and stir it into your favourite pasta.
This product:
- Hormone and antibiotic free meat
- No added MSG
- Sustainable meat
- 100% South African