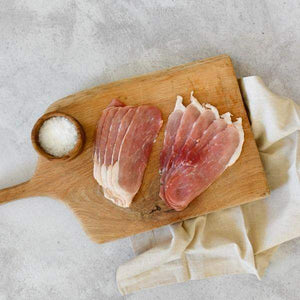 When the hungry crowds are home, there is nothing that will hit the spot quite like our catering bacon. Conveniently packed in 1kg packs, it's perfect to full those empty tummies. Lightly wood-smoked, the rashers are big enough to fit perfectly into a bacon and egg roll. Breakfast – sorted!
Cooking Instructions:
Pan-fry: Preheat a pan over a medium heat. Lay the bacon rashers into the pan and cook until golden and crispy.
Roast: Lay bacon rashers on a nonstick baking tray. Place in a preheated 180C oven and bake until golden and crispy.