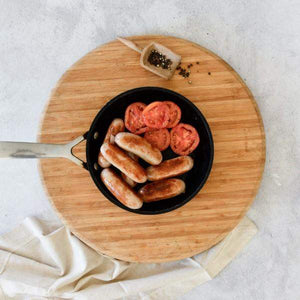 Our breakfast sausages are just the right size for little and big people alike. Made using 100% meat and perfectly spiced, they are a great staple to your Sunday morning fry-up! 
Cooking instructions: 
Panfry: par-boil for 5 minutes, pour off the water, add a little olive oil and fry over a medium heat until brown and cooked through. 
Oven: Place sausages on an roasting tray, drizzle with olive oil and bake for 15 minutes at 180C, turning halfway through.
This product:

- Hormone and antibiotic free meat
- No added MSG
- Sustainable meat
- 100% South African