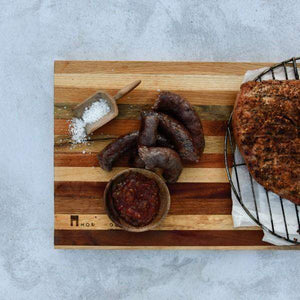 There is nothing more South African than boerewors. Our Farmstyle Boerewors is made using 100% meat with no bulkers or fillers. Perfectly ground and encased in a natural hog casing, it is gluten free with just the right fat percentage – definitely a must have at any braai.  

Cooking Instructions:
Braai: cook on low heat for approx 20 minutes, 10 minutes per side.

Pan-fry: Place 1 tablespoon of olive oil in skillet and put on low heat, place sausage in skillet and cook for approx 10 minutes each side, add more olive oil as needed.