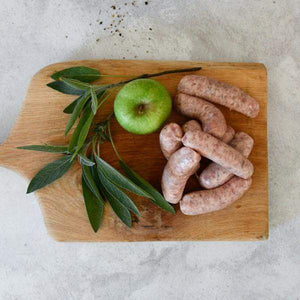 There is nothing better than apple and pork! Put those together in a sausage with fresh sage and you have the perfect pork sausage. Slightly sweet, salt and savoury and full of tasty goodness. 
Cooking instructions:
Pan-fry: par boil for 5 minutes, pour off the water, add a little olive oil and fry over a medium heat until brown and cooked through.
Oven: Place sausages on a roasting tray, drizzle with olive oil and bake for 30 minutes at 180C, turn the sausages halfway through.